Visit the exhibitions to the beat of the world's best DJs
One Friday a month, starting October 31, 2008, the Guggenheim Museum Bilbao hosts a night of music and art in collaboration with the nightclub Fever.
Visit the exhibitions from 10 p.m. to 1 a.m. to the beat of the best DJs from Spain and around the world in the Museum Atrium.
Art After Dark at the Guggenheim Museum Bilbao – don't miss out.
Limited capacity. Ages 18 and older. ID or passport required.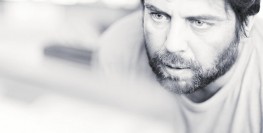 Style: Electronic
DJ TENNIS
Dj Tennis is Manfredi Romano. Born in the 70s and raised between New Jersey, Sicily, and Parma. His creative and artistic attitude has always focused on music, with a passion for singing, playing and collecting strange and noisy musical instruments. He became a DJ while promoting his country's new underground music. Manfredi is responsible for founding and developing some of the most important underground musical events in Italy such as the Elita Festival in Milan and the Dissonanze Festival in Rome.